Utah's Alexia Burch is pictured during a balance beam display as the Utah Red Rocks take on Minnesota in a gymnastics meet at the Huntsman Center in Salt Lake City on Friday, March 4, 2022. (Mengshin Lin, Deseret News)
Estimated reading time: 5-6 minutes
SALT LAKE CITY — Cristal Isa took a few deep breaths before riding the four-inch beam in the Seattle Regional Finals earlier this month.
Moments before, super senior Alexia Burch suffered a rare fall from that same beam and Utah was in danger of missing its 46th straight national championship appearance. But at that moment, living another day was the furthest thing on Isa's mind – it had to be.
It was time for her to set the tone for the nation's No. 1 beam team. But being the best in the country meant little if the Red Rocks suffered another mistake; it didn't matter if she didn't stick to her routine.
And like the seasoned gymnast that she is, Isa delivered a near-flawless routine that earned her a 9.975 for effort – momentum regained. What followed were back-to-back 10.0 scores from rookie Kara Eaker and junior Maile O'Keefe to leave no doubt.
Another Nationals appearance was assured – the only NCAA program to reach Nationals every year of its existence. It was a pivotal moment of the season as the Red Rocks showed what the team was capable of accomplishing ahead of a stacked domestic competition.
But what the beam team did that night should come as no surprise to those who have watched the team all season. The beam team's performance throughout the season had a direct connection to the Red Rocks' ability to reach new levels as a program – good and bad.
In one corner, the Red Rocks suffered their first-ever loss to Arizona State due to a shaky night on beam; in the other corner, the Red Rocks repeatedly recorded the highest beam score in the nation and helped lift the program to a second-best all-time score (198.575) on senior night against Minnesota .
In many ways, the Red Rocks live and die on the beam; and it is exactly as they want it.
"Our team does best under a bit of chaos in the moment — not necessarily like pressure, but we call it chaos," Burch said ahead of Thursday's game (11 a.m. MDT, ESPN2).
Whether it's called chaos, adversity or some other name, the Red Rocks want the pressure on the beam; it's an opportunity to force themselves to focus on what they do best. Burch said the pressure to deliver forces gymnasts to forget their nerves and just focus on their gymnastics; it "distracts" them enough to have a clear mind.
"Because everyone is so programmed as an athlete, I think when something doesn't go to plan it distracts you in a way that you don't have to think about your gymnastics because you're thinking to random things that happen," Burch said. "I think adversity is a good way to put it."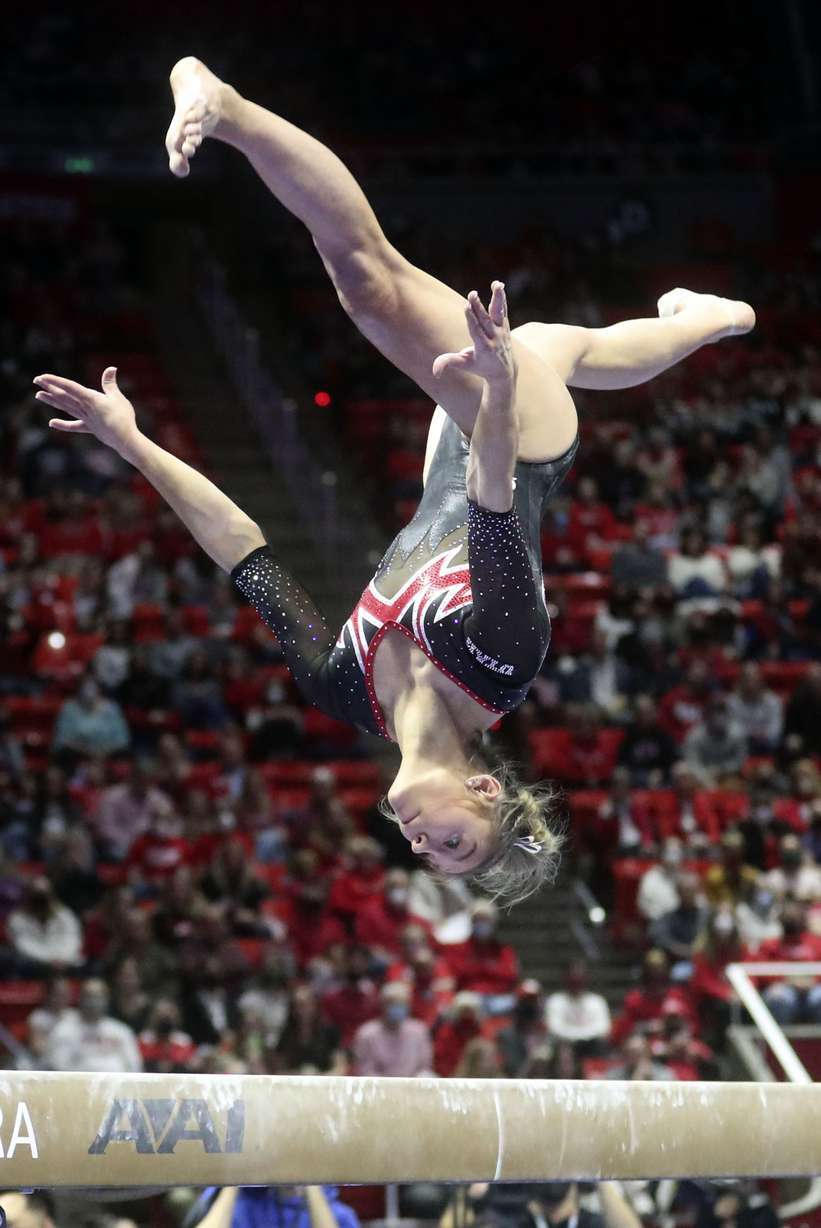 Eaker, who has only competed in a handful of meets due to an ankle injury in the first meet of the season, said she enjoys having the beam as the event that decides the Red Rocks' fate. during a competition.
"I really like the beam being the decider, because we're so strong on the beam," Eaker said. "And at this point in the season we're so consistent that no matter who gets up there, I know we'll get six for six. So it's not really a bad thing that we finish on the beam; if something thing, I think that's an advantage."
It's an advantage as long as the Red Rocks can live up to their expectations and no mistakes are made in an event where "chaos" could happen at any time. That's why floor specialist Sydney Soloski, who is not on the beam team, said she has a "mixed relationship" with the event.
"The more invested you are, the more nervous you become, especially in an event where you have no control over it," Soloski said. "Like on the ground, I don't really stress for those ahead of me, but again, I have to go to the end and either clean up a mess or build from what they've done. But an event where you just sit there and sometimes cross your fingers and hope for the best – and it's not that they can't, but it's gymnastics and there's a reason why teams don't make it."
Even the best teams can stumble when a four-inch beam is the decider of team success or failure. While no one would blame a mistake in an event with such tight margins, it's still like living life on the edge.
Leaning on the beam for the Red Rocks is a high-risk, high-reward game, but it's one the team has full confidence in to compete in Nationals – even if it means someone like Soloski remains at a distance so as not to share his nervous energy, as most fans watch at home.
"I know they're very good. I know we're the No. 1 beam team for a reason, and in practice it's 10.0 routine after 10.0 routine – like I see it – but there's just something about beaming on a podium at a big event that makes your stomach turn a little bit, and I can't say I'm not – I kinda feel it." , Soloski said. "I stand further away from the beam just because I feel like I don't want to give them my maybe nervous energy.
"And it's not that I don't trust them, it's that, 'Oh, you're on a four-inch beam and you go back on it.' I think anyone watching this might be a little spooked It's a fun event to watch but it's also like "Oh" It's one of them so it's not my favorite ."
Soloski is just telling the truth.
The Red Rocks will enter the first session of the national championships on Thursday against Oklahoma, Alabama and Minnesota, with a chance to compete on Saturday. The top two teams from each session will advance to Saturday, where a national champion will be named.
And the last rotation of the meeting for the Red Rocks? Shine.
×
More stories that might interest you